Dreams of Yesteryear Victorian Bed and Breakfast is just a couple of blocks from the banks of the Wisconsin River, and a few minutes stroll from historic downtown Stevens Point, in the heart of Wisconsin.
The Queen Anne Victorian house is listed on the National Register of Historic Places. Built in 1901 by J.L. Jensen, it was designed by architect J.H. Jeffers, who is famous for having designed the Wisconsin Exhibit for the 1904 St. Louis World's Fair.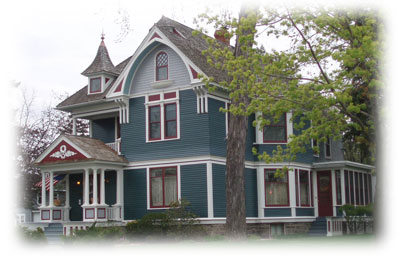 Come stay in the kind of place Victorian dreams are made of! This beautifully restored Stevens Point bed and breakfast treats guests to the best of modern day luxury, while surrounded by the charms of yesteryear.
The Bed and Breakfast Experience
Dreams of Yesteryear B&B has been beautifully restored and each room is decorated with antiques and Victorian style. But guests will enjoy all the modern comforts, including wireless high-speed internet and cable television.
No stay is complete without a delicious gourmet breakfast, including such delights as pecan- or strawberry-stuffed French Toast, blueberry pancakes, or eggs Benedict among other morning treats.
We invite you to explore our website for an online tour of the house and guest rooms, and to learn about the attractions and events in central Wisconsin. We're glad you stopped by, and look forward to meeting you in person when you stay with us at Dreams of Yesteryear Bed and Breakfast!
Dreams of Yesteryear Bed and Breakfast


Egg Sausage Strata
8 eggs, slightly beaten
6 slices bread
2 cups milk
1 cup cheddar cheese, grated
1 pound Jimmy Dean sausage
1 tsp. salt
1 teaspoon dry mustard

Cook sausage in pan and drain. Combine eggs, milk, cheese, sausage, salt and mustard. Spray 9 x 12 inch pan with cooking spray. Cover bottom of pan with bread slices and pour mixture over bread. Bake at 350 degrees for 35 to 40 minutes. Serve warm. Can make the night before and refrigerate.

Serves 9.